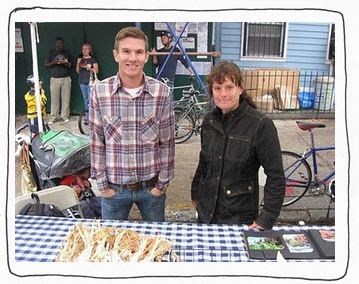 Husk is a collaborative and multi-platform art duo committed to exploring the agricultural histories and possibilities of New York City. Christina Kelly and Jeff Hutchison first met in 2009 while Christina was growing corn on a barge and Jeff was drawing plants and pitchforks in Auto-CAD. They discovered a shared fascination with the agricultural history of Brooklyn and beyond. Through their talks and work together on the Brooklyn Maize project, ideas grew and projects have taken shape.
Christina is a visual artist and filmmaker. Her recent work has focused on the historical past, loss and transformations that express resiliency, survival and sometimes hopefulness. She worked for many years as a film and television editor but when her son was born in 2007 she went on hiatus from filmmaking and started planting corn. The events must be related but she is still not sure exactly how. Her public art project Maize Field was supported by the DOT Urban Art program and the Brooklyn Arts Council. Her day job is with the NYC program of the Trust For Public Land.
Jeff grew up in the shadow of an apricot orchard in what became the Silicon Valley. He watched orchards disappear and technology take hold. Gardening has always been a part of his life and after becoming disinterested in pursuing his graduate studies he returned to gardening and developed an interest in farming. Jeff has worked with farms in California, Rhode Island, New York and through out Japan. Jeff lives in Brooklyn and works as a freelance gardener and farmer.