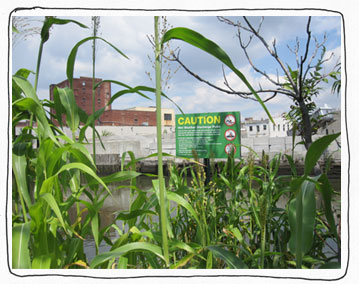 SWEEP
On May 28th 2011 Husk planted seeds of broomcorn along the Gowanus Canal at the end of 2nd Ave and 5th Street.
A forgotten crop, a lost industry:
Broomcorn is a type of Sorghum that was once commonly used to make brooms. In fact Brooklyn was once home to something of a broom making industry. With the introduction of synthetic materials broomcorn cultivation declined and the broom making industry left Brooklyn. We will revisit and reimagine this industrial/ agricultural history through the cultivation of this forgotten crop and through the production of brooms from our harvested crop.
The site:
The broomcorn garden is next to "the Salt lot" along the Gowanus Canal. This area has been planted with trees and
perennials by the Gowanus Canal Conservancy, a steward for the preservation, restoration and green development of the Gowanus Canal. The Gowanus Canal Conservancy has let us create a terraced garden in the area to grow the broomcorn.
The broom of the system:
The Gowanus canal is currently designated a US Superfund clean-up site. The Salt Lot is a property belonging to the Department of Sanitation. Our terraced garden is located in an area where, in heavy rainfall, sewage is discharged into the canal. How sanitary is that? With the planting of broomcorn and production of brooms made from the site we will also draw attention to the proposed clean up of the environmentally degraded area. We hope our crop will help tidy up this soiled landscape.
To view photos and the progress of the project visit our blog