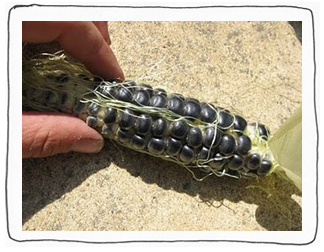 We are currently planting and sharing Lenape Blue Flour corn (Sehsapsing) seeds that we saved from last year's Canarsie Maize Field garden in Canarsie Brooklyn.
We want to see this beautiful variety of corn continue to grow in Brooklyn. This spring we donated seed to the Lefferts House in Prospect Park where they are now growing it in their Three Sisters Garden.
Last year we grew a small crop of this variety in a small garden in the back of P.S. 115. This site was chosen because it is in an area that was known as the Canarsee Indian planting grounds in the 17th century. The Canarsee Indians were one of the Algonquian-speaking groups called the Lenape who were the original inhabitants of the New York area.